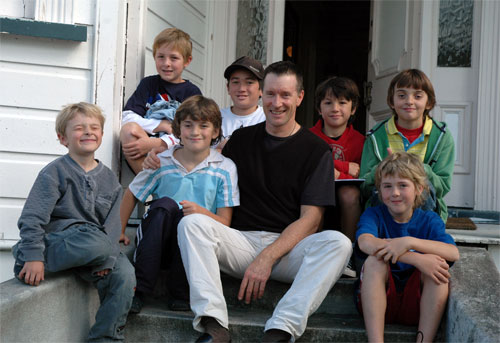 Glenn White is a Buteyko Institute certified practitioner trainer and director of the Buteyko Breathing Clinic in Auckland, New Zealand.
Glenn overcame a lifetime of asthma and allergies after completing a Buteyko breathing course in 2000. He has been asthma, allergy and drug free since that time. Overcoming a lifetime illness led Glenn to train as a Buteyko Institute practitioner in the UK, returning to open the Buteyko Breathing Clinic in New Zealand in 2001.
The clinic specialises in a wide range of breathing-related disorders including snoring, sleep apnoea, asthma, allergies, hay fever, chronic bronchitis, stress-related conditions, panic attacks and chronic fatigue. The clinic also offers specialised programmes for athletes wanting to boost sport performance. As of December 2015, over 8,500 people have attended his clinic for help with breathing disorders.
Glenn has spoken at conferences both nationally and internationally and was part of a group of four practitioners that travelled to Havana, Cuba in 2004 to train 14 practitioners and teach Buteyko to 200 children and adults with asthma. He contributes regular articles on breathing disorders to local media and his work has attracted media interest, including a feature on TV's Campbell Live in 2006 and on the series Is Modern Medicine Killing You? screening in 2012.
Glenn teaches courses and trains practitioners in New Zealand, Australia, Singapore and Japan. His goal is to have breathing assessments and retraining incorporated into general practice to help reduce the burden of breathing disorders like asthma and sleep apnoea.
Please contact us if you would like Glenn to present a breathing workshop at your practice.
We offer CPD points for health professionals attending our workshops. 
Read Glenn's personal story here:

Short version »
Full version excerpted from Philip Dowling's "Journeys back to health" » 
---
Professional presentations and workshops:
19 April 2016

Workshop 

– Asthma New Zealand, Auckland

4 April 2016

Wellpark College 1st year Naturopathic students

12-13 March 2016

Workshops co-presented with Dan Hanson of Heal Dental

24-29 January 2016

Duckling Dental, 

Shizuoka, Japan – Workshops for Dental Professional

30 November 2015

Little Bird, Ponsonby 

– Public Talk

6 November 2015

National Respiratory Conference, Wellington

22 October 2015

Wellbeing Centre 

– Stress Free Living with Roseanne Sullivan & Gloria Seaman

10 October 2015

AIMA New Zealand 

– Address Stress with Eric Bakker

24 August 2015

NZ College of Massage – Buteyko Intro

29 April 2015

Ngaio Health Centre Anniversary

22 October 2014

Wellpark College of Natural Therapies – 1st year students

10 October 2014

Asthma Foundation Conference presentation

21 September 2014

Presentation to staff at Stonefields School

16 June 2014

Duckling Dental, Shizuoka, Japan – Seminar to Dental Therapists

8 May 2014

Sanctuary Dental – Seminar to Dental Therapists

19 February 2014

ecostore – Media-only event

12 November 2013

Sanctuary Dental – Dental practitioners

5 November 2013

North Shore Surgery

1 November2013

Breathe Series Workshop

28 September 2013

Naturopathic AGM – South Pacific College

17 September 2013

Presentation to Alexander Technique Practitioners

10 July 2013

Sanctuary Dental

2 March 2013

"Raising Healthy Families" Workshop with Dr. Leila Masson

8 December 2012

Glendowie College Sports Seminar

27 November 2012

AIMA Presentation with Dr. Nic Anderson of Alpers Dental

23 November 2012

Laser LifeCARE Institute – Dental practitioners

16 November 2012

South Pacific College of Natural Therapies – Third year students

31 May 2012

Wellpark College of Natural Therapies – Third year students

28 May 2012

Balance Massage

3 October 2011

New Zealand College of Massage workshop for third year students

28 June 2011

AIMA presentation - Dr Patrick McHugh & Glenn White

30 May 2011

Breathing retraining intro Wellpark College 3rd year students

21 May 2011

AUT Breathing, Performance and Rehabilitation post grad paper

29 October 2010

South Pacific College of Natural Therapies

29 July 2010

New Zealand College of Massage

22 May 2010

AUT Breathing, Performance and Rehabilitation post grad paper

30 March 2010

Wellpark College of Natural Therapies

26 November 2009

New Zealand College of Massage

17 November 2009

South Pacific College of Natural therapies

7 October 2009

Procare Health Ltd – PHO GP Group

12 August 2009

Herbal Health Centre (doctors peer group)

2 May 2009

Wellpark College of Natural Therapies

17 October 2008

Wellpark College 1st year students

31 July 2008

Manik Organic, Sanur Bali

30 July 2008

Bali Spirit, Ubud Bali

23 April 2008

Wellington Regional Asthma Society

21 April 2008

Asthma and Respiratory Foundation of New Zealand

5 March 2008

Aspiring Medical Centre - Wanaka, South Island

23 November 2007

Buteyko conference - Brisbane, Australia

20 August 2007

South Pacific College of Natural Therapies 1st year students & faculty

8 August 2007

North Shore Hospital, Auckland - Physiotherapists

7 June 2007

Shape up Slim down Group - Fitness Station with Damian Kristoff

29 May 2007

Tamaki PHO Nurses

26 May 2007

MINDD Forum on Child Health, Auckland

24 May 2007

Wellpark College 3rd year students

21 May 2007

Body Tech Fitness, Auckland 

6 May 2007

AIMA Weekend Seminar, Auckland

27 March 2007

Wellpark College, Auckland 1st year students

27 March 2007

Shape up Slim down, Fitness Station 

5 February 2007

Respiratory Nurses, Middlemore Hospital

25 November 2006

Buteyko Institute AGM, Melbourne 

18 November 2006

National Respiratory conference, Auckland