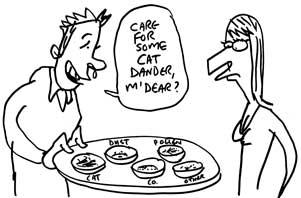 Typical inhaled triggers may include house dust, dust mites, cat dander, feathers, mould and fungus spores, solvents, perfumes, second-hand smoke, and chlorine (swimming pools).
The most common food triggers are dairy, wheat, egg, shellfish, peanuts, soy, chemical food additives, food colouring and foods high in salicylates.
Allergy sufferers may react to medications like aspirin, paracetamol, penicillin or some antibiotics.
Topical allergy triggers may include detergents, chlorine (in swimming pools) and cosmetic products. Highly susceptible individuals can even develop a skin rash from chlorine in municipal water.