In June, I spent two weeks training 20 staff at Duckling Dental Clinic in Shizuoka, one hour by Shinkansen train from Tokyo. Duckling Dental was founded by Dr Masaaki Shioda and specialises in paediatric orthodontics.
It was an unforgettable experience. The two-week training was intensive but also fun and I was treated to outstanding hospitality by Arisa's family and the staff at Duckling Dental. The Shioida's very kindly took me into their beautiful home and Arisa's mother prepared us beautiful Japanese meals daily.
At right: first night in Shizuoka with
Dr Arisa, Dr Masaaki and Kuniko Shioda

Buteyko Training at Duckling Dental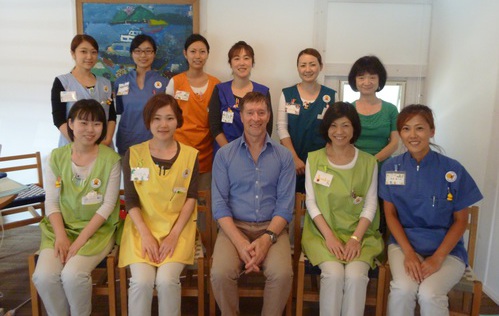 Duckling Dental staff trainees, Professor Motegi is on right in the back row
Nine staff started training in the first week and the first session was attended by Etsuko Motegi, professor of orthodontics at Tokyo dental college. Her attendance was something of a coup for both of us. She said after the workshop that she now realises breathing has been the missing factor in her teaching and research and is keen to incorporate breathing retraining into the Dental College's curriculum.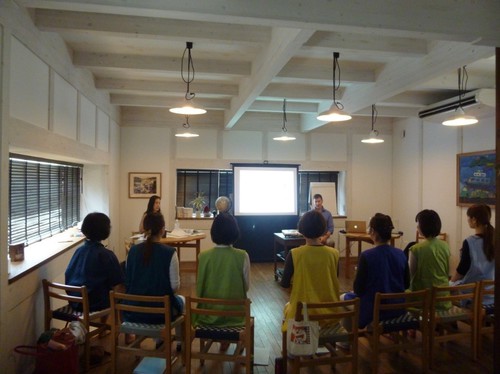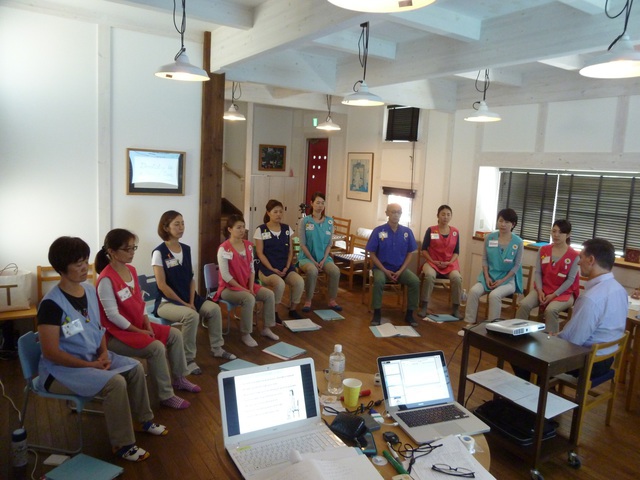 Practitioner training at Duckling Dental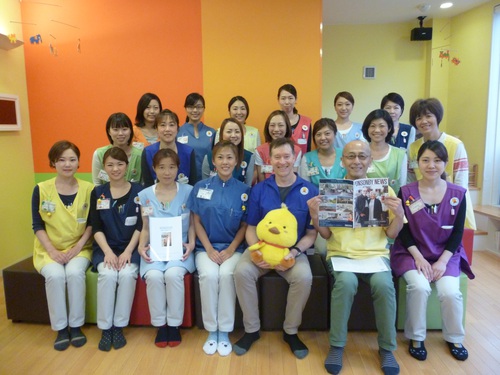 Dental staff – Dr Masaaki Shioda on my left and Dr Arisa Shioda on my right
Duckling Dental in Shizuoka is without a doubt one of the most advanced dental clinics for paediatric dentistry I have seen. The owner, Dr Masaaki Shioda set up Duckling Dental in 1987 with a philosophy of kind, caring, child-focused dentistry. He has developed techniques for calming the children and helping engage them in their own dental care. I witnessed a 3-year-old boy receive a local anaesthetic by hypodermic into his tongue without so much as flinching. I couldn't believe my eyes but Dr Shioda tells me this is the sort of thing you will see every day at Duckling Dental. They have no need for general anaesthetic at the clinic.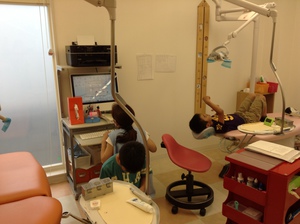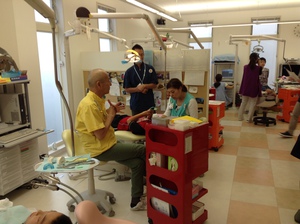 The clinic is incredibly busy, seeing on average 100 children per day
Duckling Dental is one of five dental clinics in Japan offering early intervention growth orthodontics; including breathing retraining, myofunctional therapy and dental appliances where needed. The clinic partnered with MRC to offer Myobrace and MRC myofunctional therapy in 1987. For these children learning to breathe correctly and through the nose is essential for the dental programmes to work. And that's why Arisa and her father are implementing the Buteyko Breathing Blinic programme into their clinic.
Teaching children good oral posture, nasal breathing, diaphragm breathing early in life helps the jaw to develop correctly with natural wide dental arches and plenty of space for growing teeth. This ensures the best chance for straight uncrowded teeth. Other benefits include fewer dental caries and less likelihood of enlarged adenoids, glue ear and tonsillitis. The incidence of respiratory infections and respiratory disorders is also significantly reduced. Nose breathing and good tongue posture are also shown to reduce bedwetting.
Arisa and I will be presenting a talk on the methods that Dr Shioda has pioneered at our AGM in Brisbane this November.
I am planning to return to Duckling Dental in Japan to do further training in January 2015.
Glenn White