A 2013 study has found a link between sleep-disordered breathing (SDB) and markers for Alzheimer's disease (AD) risk and adds to the growing body of research linking the two.1

Researchers were unclear which comes first. "It is really a chicken and egg story," said Ricardo S. Osorio, MD, professor at NYU School of Medicine who led the study.
However, when we consider how snoring and sleep apnoea affect brain oxygen it is not hard to see how this might lead to brain deterioration long term.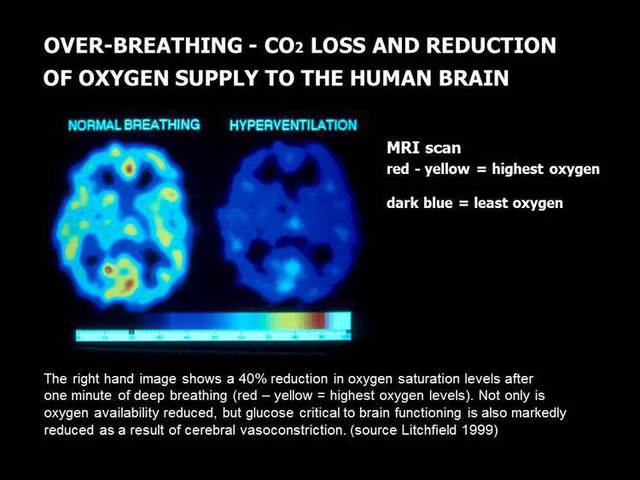 The image above is an MRI scan of the human brain demonstrating how just 1 minute of over-breathing can reduce brain oxygen by 40%.2 If we consider that snoring is a symptom of over- breathing and sleep apnoea a consequence of brain hypoxia caused by snoring (over-breathing) then it is no surprise that someone who sores or suffers from nightly sleep apnoea is more likely to develop Alzheimer's in later life. We explain the physiology and mechanisms by which over-breathing reduces brain oxygen in our workshops and seminars »
Improving your breathing is a game-changer for better sleep. Our programmes have helped thousands of people rediscover the joys of restful snore-free, apnoea-free sleep.
Good breathing is THE FOUNDATION for health and the ability to breathe through your nose 24/7 and breathing exercises to improve daytime breathing habits are the key to restoring productive sleep.
The health implications of better sleep include improved cardiovascular health and, as research is now showing, may be a factor in reducing the incidence of Alzheimer's:

Twelve tips for better sleep:
Try to sleep on the left side with head slightly elevated. This reduces the tidal volume of breathing. Avoid sleeping on your back.
Try to breathe through the nose. Try the nose clearing exercise to help clear your nasal passages before sleep.

Don't over-sleep, 7-8 hours is adequate for an adult, 8-9 hours for children.
Avoid large meals late in evening or snacking close to bedtime.
Reducing or eliminating caffeine and alcohol in evening will improve sleep structure.
Sleep in a dark room, no night lights or illuminated clock in the bedroom.
Ensure the bedroom is well ventilated, don't over-heat the room.
Avoid loud alarm clocks.
Turn off screens: computer, games, email, Facebook at least one hour before sleeping.
Do not watch TV in your bedroom
Turn your mobile to aeroplane mode and turn off any wireless router in house while you are sleeping
Make sure you get out in full daylight regularly
Contact our clinic and find out how you can enjoy restful, snore-free, apnoea-free, refreshing sleep »

You can read feedback from medical professionals and our clients who now enjoy restful snore-free sleep after doing our breathing programme »