Dysfunctional breathing is widespread and the signs and symptoms usually go undiagnosed and untreated.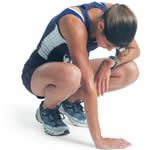 You and your team's performance may be limited by:
low stamina
lactic acid buildup
slow injury repair
performance anxiety
asthma
shortness of breath
fatigue
increased susceptability to respiratory infections
reduced performance at high altitude.
Read how efficient breathing enhances athletic performance and recovery...